Key
GM = Game Master
DC = Disconnected
RPVU = Role players virtual Universe (This Site)
RPG = Role playing game
Silver = In Game Currency
Class = Character class, eg Warrior, mage, archer, to see class's Click Here
Ok now many of you are probably wondering what this is all about for those who play DnD style RPG's you will have an idea, with RPVU roleplays we have simplyfied DnD style games to make them fun and yet skill based games you can play on IMVU here are some of the features below

Experience Levels
The more RPGs you play with us the more Experience you get, the more Exp you get the more you level, each level you will game 1 skill point These are use in adding to your stats.

Items, Weapons & Armor/Armour
Items, Weapons, Armor can be bought with Silver droped in our RP Games, Weapons have there own stats hich add to your Attack/def etc etc.. Unlike stats Weapon/Armor damage and defence are done by Dice roles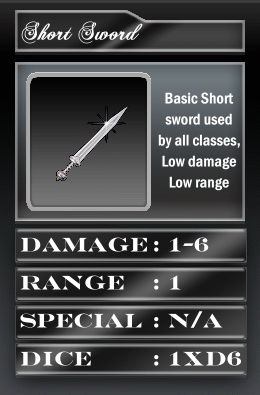 Spells, Skills etc..
Some
class's
will start with spells and skills some will gain them as they level, some can be bought with Silver from our Role Play Games
Ok here is how the games work, There will be 1 Offical Games Master (GM) and then a selected number of men, after you have first picked your
class
, Weapons armor etc etc the GM will call you into a IMVU Room, this room is set up with a Grid on the floor, this is there for movement attack range purposes, you will start out where the GM tells you to go, once the game begins you can either move 1 sq per turn or do an action
move (attack def etc etc..) the GM will be invisable once the game has started he/or she will be doing the dice rolls and monster movements. there are 3 types of Current games at the moment listed below.

Official Match
Hosted by a RPVU Offcial Games Master, this match is recorded and all items, money, experience gained in the Game will be added to your character. you will be fighting monsters not players in this type of match, games last between 1-2 hours long

Duel
This is normally a 1-1 match this can be hosted by anyone but if it is for stakes (bet) then a Official GM must be present

Faction Wars
This is where 1 Faction goes against another for this a offical game master must be present the battle is 4v4 but you are aloud equal about of reserve players so if 1 dies or is DC on your team you can call in another till you are all dead or DC
Game rules,
Try to dress the part
When summoned to a game room find the spot indicated as yours (nomal a color the GM asigns you)
you can either move 1 sq per turn or do an action move (attack def etc etc..)
If you are disconnected the game will carry on without you, if you are not back in 2 turns you are out for good so remmeber to start your imvu before entering a game
This is a Role Playing game so stay in character when in the room, you dont need (bracet) talk got a question for the gm in game type a * then your comment
If you die in the game you have 2 rounds (when everyone has took a turn) to be revived after that you must leave the room.
This is a turn based rp so only speak or do actions when it is your turn